Nick is a client of Employ for Ability who is on the autism spectrum and also experiences severe anxiety. We worked with Nick to examine areas of interest he may want to work in and explored areas of strength.
Over a 4 month period we developed his capacity for work by attending different businesses to gain an understanding of what those businesses did, meet different workers and explore how those  experiences intersected with Nicks ASD profile and anxiety levels. Using this approach gave Nick self-confidence and belief that he could meet new people, talk about his areas of strength and gain insight into the world of work.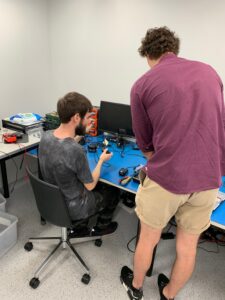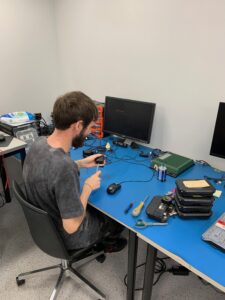 An opportunity presented at Seeing Machines for a role in their technical department testing and repairing returned equipment that can then be redeployed to clients. They needed someone with high attention to detail, ability to learn all the components of the equipment, be able to follow strict quality control processes and be accurate 100% of the time.  Nick with his new levels of confidence gave it a go, and excelled.
Seeing Machines understands that people on the autism spectrum can make great employees but the recruitment path needs to be modified to bring out the great qualities in their candidates. They agreed to a 5 day work trial over 2 weeks of approximately 12 hours in total. This allowed Nick the opportunity to overcome his anxiety, try the job in manageable time shifts and demonstrate he had the qualities for the role.  He explored longer versus shorter shifts to see how his body and profile reacted to longer shifts Nick determined that a 4 hour shift was optimal at this stage of his work experience.
Nick still experiences anxiety, but has learnt he can do the job and has high confidence in his ability. Seeing Machines has learnt how to help Nick with his anxiety and ASD profile to also ensure he can deliver the fantastic results he is achieving. With ongoing support for Nick and his boss Petar, Nick will be a high performing member of the Seeing Machines team for the long term.